GTI G60 Edition One
Started by
G-Unit
,
Jun 03 2009 10:35 PM
, 41 replies to this topic
Posted 26 July 2016 - 04:14 PM
Promo video za Street race, dečki iz BONK studia su se potrudili, kapa dolje...

G-ladiator

1.9L RSG65... 83mm JE custom pistons, light & balanced crank, light & balanced flywheel, Fcp forged conecting rods 144mm, port & polish cilinder head- max, port throttle body & intake maniflod, 1 mm bigger intake valve rings , 2 mm bigger exhaust valve rings, 35 mm exhaust valve, schrick 268/276 asymetrisc cam ,adjustable vernier cam pulley, light hydos 54g,SLS RSG65-lader, 68mm tothed pulleys kit, 385 cc injectors with 3.5 bar frp, bosch 044 fuel pump, w5dp0 sparks, 90 mm G-lader intake,90-230 mm open K&N airfilter, custom blow off valve , 10 row oil coller, 4-1 headers ( 42 mm ) , 60mm inox line with 3 free flow mufllers, G60 FMIC, SLS P3RS custom chip... cca 270-280 bhp...

O=o==w=g6o=O
---
Posted 29 January 2018 - 06:06 PM
Pozz ekipa, evo da dignem topic iz mrtvih i da pokažem daje ovaj auto još uvjek živ..

Na autu se nije ništa posebno radilo , samo sam se vozio i uživao ( kad god sam imao priliku ).
Jedina ozbiljnija promjena je sto je auto napokon mapiran, tu samo se poprilično namučili al na kocu smo zadovoljni kako auto radi i naravno kako auto ide.
Kupio sam mapu od rottele tuning , napravili su je po mom set-up a mi smo napravili remap , odnosno popeglali afr i gorivo. Najveća zasluga za ovaj posao ide mom prijatelju Danki..

Rottele mapa i G65 znakić na masku..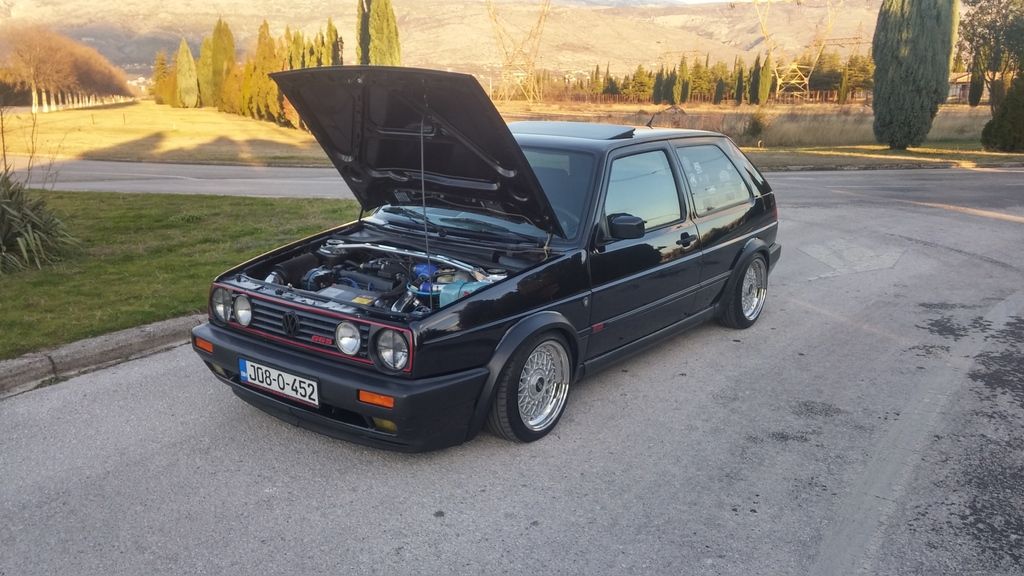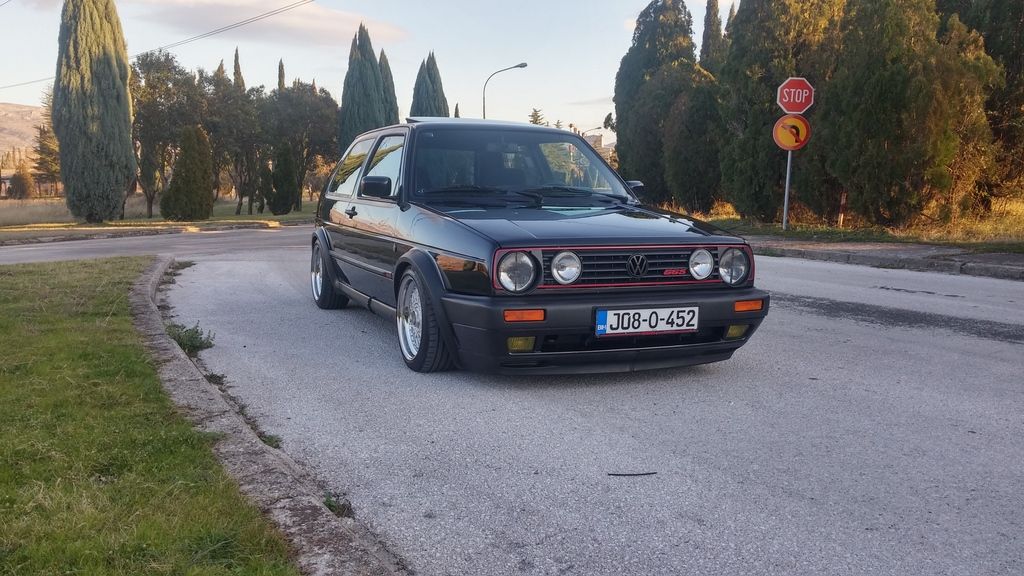 jedan video 
Video ubrzanja u 3 i 4 br., od  100-200 km/h ide cca 10 sec , s tim da je lamela već počela izdavat ( osjeti se na šaltanju iz 3 u 4 br ). auto vuče iz 0 do 7200 ko lu bez truna posustajanja, imam osjećaj da mu je peak snage jako visoko.

Komentari : 
http://www.vwclubcro...ion-one/page-33
Edited by G-Unit, 29 January 2018 - 08:34 PM.

G-ladiator

1.9L RSG65... 83mm JE custom pistons, light & balanced crank, light & balanced flywheel, Fcp forged conecting rods 144mm, port & polish cilinder head- max, port throttle body & intake maniflod, 1 mm bigger intake valve rings , 2 mm bigger exhaust valve rings, 35 mm exhaust valve, schrick 268/276 asymetrisc cam ,adjustable vernier cam pulley, light hydos 54g,SLS RSG65-lader, 68mm tothed pulleys kit, 385 cc injectors with 3.5 bar frp, bosch 044 fuel pump, w5dp0 sparks, 90 mm G-lader intake,90-230 mm open K&N airfilter, custom blow off valve , 10 row oil coller, 4-1 headers ( 42 mm ) , 60mm inox line with 3 free flow mufllers, G60 FMIC, SLS P3RS custom chip... cca 270-280 bhp...

O=o==w=g6o=O
---
---
0 user(s) are reading this topic
0 members, 0 guests, 0 anonymous users